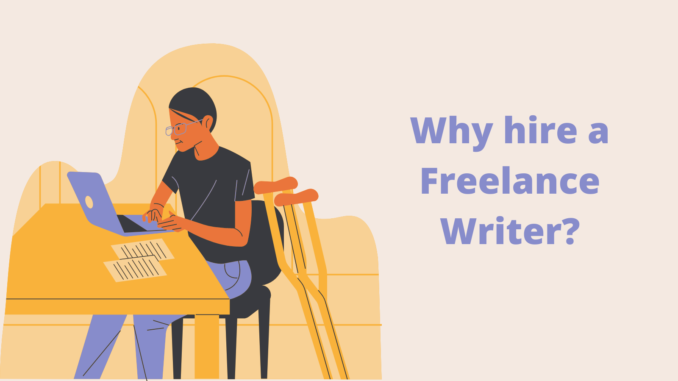 6 reasons why hiring a freelance writer is worth the money!
Whether to hire a freelance writer or not? The biggest dilemma!
Well, we are here to troubleshoot the problem irking your consciousness. Let's start with bolting research conducted by MarketingProfs revealing that content marketing was a strong part of the entire marketing strategy for over 91% of B2B and 86% of B2C marketing professionals.
We all have a thought process but fewer know how to write and precisely express it. This is where the urge to hire a freelance writer strikes the epitome.
The emergence of the internet not only fueled the introduction of humongous websites but infinite readers as well. Every company has its website as a window to their brand that constantly informs their audiences about their services.
Giant brands like Facebook or Google persistently revamp their websites with good content no matter how famous they'd become. A good freelance writer knows what readers seek and how to put their curious minds at ease.
Why Should I Invest in Content Writing?
The internet-savvy world has given birth to more active readers that can access any information. It has also allowed companies regardless of the size and budget to achieve the company's values, processes, culture, and beliefs, with mere content writing.
According to marketing-gurus, the very first impression of your company's brand often comes from the content present on your website, social media posts, newsletters…you name it.
Why Should I Hire a Freelance Writer over In-house?
In the year 2016, Forbes reported that over 35% of the working youth of the US was freelance. Companies really like the idea of hiring a skilled writer which will only work and get paid when required. Unlike, establishing a full-stack writing team, hiring a freelance writer unfurls uncountable perks out of which 6 are as followed:
1. The Pro knows The Best
No matter how much you love writing as an entrepreneur, you can't fulfill daily content needs. Movies might reflect that one man/woman army is easy but in the business world, it can prevent in attaining unimaginable success.
A company is equipped with multiple individuals holding expertise in their respective department and the same applies to a content writer.
2. Freelance Writers are Experts, Usually
To earn a livelihood, writing is the only means for content writers. The constant practice of writing in many styles and about infinite topics help them become the expert of their field. A growing writer sharpens its skills to a gleaming edge to provide lucrative benefits to every type of business by drafting blog posts, articles, and sales copy.
When considering to hire a freelance writer, you can leave all the hassle of translating all the difficult jargon while making it easy for every reader to read. Most of us think that grammatically correct pieces of a document are known as effective writing.
But, my friend I am afraid you are validated with half knowledge in this context. Good writing is a mixture of grammar, sentence formation, customer-centric content, punch lines, and tactful information.
Hire a freelance writer that could express you, your company, and its product to your existing and potential customers.
3. None Can Beat a Freelancer in Speed
As an entrepreneur, you have lined up meetings then and now and are always busy with ongoing confusion among employees, clients, or vendors and. Amidst all this chaos, it is nearly impossible for a non-writer to write projects, PPTs, or product descriptions.
Even if you somehow manage to write at the last, it could ruin the feel of the message or might be your best work. Hiring a freelance writer will pass down your burden to his shoulder and write content dedicatedly induced with intensive research, competitive analysis, and keyword analysis in no time.
4. Hire A Freelance Writer Knows About SEO
Do you have expertise in SEO?
Most people don't, and that is totally fine.
But when you hire a freelance writer, she will come up with her SEO knowledge that will help in ranking the page at top on finicky search engines. She might not have core knowledge of SEO but will definitely know more about it than the average person.
5. A Freelance Writer Can Think Out of the Box
A freelance writer works with versatile clients that are erratic. This gives her experience of understanding what works in the industry and what could probably become a failure.
A writer widens her horizons in order to boost his creativity and writing style and this could benefit you. Also, she is always close to research and content observation, helping her to think out of the box.
6. You will only Pay for her Working Hours
Unlike in-house teams where you have to invest in HR to find the right fit and later to pay employee's salaries and extra benefits, a freelance writer will charge for her words.
Digital experts believe that a freelance writer is like a smart investment without any loss in return. If you haven't considered hiring a freelance writer that can convert your leads into revenue, improve customer retention, and top ranks at SERP, now is the right time.