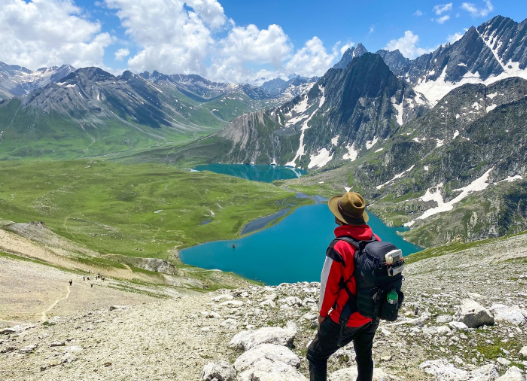 Introduction
It is meaningless to search for rain in a desert where you know you can not get even a single drop of the rain even if you try so hard. In the same way it is necessary for someone to make sure that he chooses the right place for the trek but simultaneously for the right time. Time plays an important role in everyone's daily life. It can make your day perfect or it can make the same day worse. Imagine you are going for a trek to Kashmir in the winter season where you will find nothing but snow all around. You may not be able to realise the beauty of nature and at the same time you will feel uncomfortable by the temperature and climatic conditions around you.
So, make sure that before going for any trek one must find the best location with the right time to enjoy the beauty of nature simultaneously. Don't you worry any more about where to find all such data for your trek as we are there to help you out with your stuff. By gathering all the best treks with perfect time to enjoy them.

Best time To visit
The Kashmir great lake trek is available for trekkers in the month of July to September. The main reason is that the rest of the year in Kashmir is engulfed in snow which is not suitable for many of the trekkers. At the same time in different parts of the country like in Uttarakhand this is the season of monsoon where a beautiful view of a valley of flowers is available for trekkers. While the case is different for Kashmir these three month is enough periods where you can encounter various changes in the colour of the landscape over there. Also, you can enjoy the breath-taking view of nature.
WHAT TO EXPECT FROM JULY TO SEPTEMBER IN KASHMIR?
1.Early July:
Patches of snow at higher altitudes like Nichnai and Gadsar pass start to clear up. If the trekker goes to Kashmir at this time, he will encounter fresh green colour plants along with new blossoms all around. Just imagine yourself in between new blossoms all around and the aroma of the flowers scattered all around and also the pleasant green colour entering your eyes. The experience is just on another level.
2. Mid-July to Mid-August:
At this point of time most of the snow has melted down. This is the warmest period in Kashmir. You will also encounter a very beautiful landscape with breath-taking colours which is the rarest experience in one's life. There will be some sort of mild shower which will not be that concerning. Every trekker is able to reach the camp areas before 4pm itself which is a good practice at this time. The weather here is mostly pleasant and warm and you will enjoy your trek throughout your day.
The temperature during the day reaches 20° C which is quite a normal temperature. The practice of reaching the base camp before 4 pm is done because the evening shower is very common at this period of time in Kashmir. So, in order to keep the trekker safe this practice is done. So, if you wish to go trekking with your family then this is the perfect time for that.
3. Mid-August to September:
At this point of time, you will certainly notice the drop in temperature around you in Kashmir. The beautiful valley of flowers starts to wear off. You will certainly find a slight snowfall in the area at this time. The sky is mostly clear and blue at this period of time. So, if you are a newly married couple or if you are on a trek with your girlfriend then this is the perfect time for trek having a chilled atmosphere around you and also nice view of sky and first snow is the perfect spot for the couple to spend quality time with each other.
Conclusion
So, as you can see, in a certain period of time you will get only a certain amount of the view and scenery. If you wish to go for a trek, anywhere try to get the perfect time to go for it. As every situation needs a perfect time to get implemented. Trekking is the best experience of your life with nature. So, if you want your experience to be best then go for the best.